Hardware and Software Specifications, Examples, Links, and other info. are valid at the publishing time. In case it become invalid use the Internet Search.
1st Published, Dec. 2004
Over 6,500,000 Hits Site Wide in 2006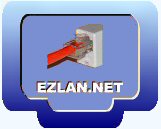 Installing Network Cables.
A very short basic primer about Network Cables.
Link to: CAT5 Straight, Crossover. What is CAT5, which one should I Use?
CAT5e or CAT6?
The current CAT5e network cable supports the current Giga Network (1000Mb/sec.). Giga Network is Not yet commonly used in home networks ( Home Giga Network. ) This means that CAT5e would be capable to handle Home Networks for the next 5 years. If you put the network cable into the walls find inexpensive CAT6. Otherwise it is a matter of financial personal call.
If you decide to go with CAT6 make sure that the hardware that you get is CAT6 compatible.
Network cables comes in two Core flavors.
1. Solid Core. - The copper conductor is one solid wire.
Solid core is better RF conductor but can brake from twisting, thus it used for long in- wall installations.
2. Stranded Core- The copper conductor is made of few thin wires bunched together.
Stranded core loses the RF faster than the solid core, but it is mechanically flexible, thus it used for patch cables that are short but need to be plugged and unplugged often.
For installation near very hot spaces you need to use Plenum Coated CAT5. Plenum is the outer coating of the Cable and it provides better security in case of a Fire.
You can find these cables at your local Home Depot.
On Wiring:
It not so difficult to wire a house if you follow few simple rules.
If you are not experienced with RJ-45 crimping do not crimp.
---
Most CAT5 cables crimped by the un-experienced results in slow or non-functional Cables.
---
It is much easier, and yields better results to install in the wall Keystones Jacks, (or surface RJ-45 Keystone boxes if you do not "snake" the cable inside the walls).
The computers and other Networked hardware would be connected with commercial made RJ-45 to the wall outlets.
Commercially made CAT5e patches are very inexpensive these days.
---
You can find Keystone jacks and plates in you local Home Depot.
Link to: Inexpensive Ethernet CAT5 Patch Cables.
The following link will provide an actual description of wall plates installation.
Link to: Physical Home Networking.
To Connect the Jacks and the Cables.
Link to: How To Terminate & Assemble Keystone Jacks.
You can buy the Keystones and plates at Home depot, or on line here.
Link to: Keystone Jacks (Scroll few screens down).
If you insist on crimping, full instructions here.
Link to: How to make CAT5 Cables.
To avoid future headaches, do Not Wire Crossover in the wall.
For occasional use of Crossover cable you can use a Reversed Coupler.
Link to: Reversed Coupler.
Two Straight Cable with this Coupler make a Crossover cable.
If you connect a Short patch cable through this coupler to the jack in the wall, the resultant is a crossover connection with the other side.
Testing your work:
In very general terms, testing CAT5e cables for Home LAN usage can be done by:
1. Measuring DC continuity.
2. Using RF signal.
3. Commercially Certifying the Cable.
The 1st method is basically useless since DC continuity can be OK, yet the Cable will be very poor RF conduit. (The cable has to deal with a 100Mb/sec. signal).
To employ the 2nd method.
For about $50-$100 you can find a Tester that is constructed of two units.
One unit is placed at one end and inject RF signal to the Cable, the second unit receives the signal (or not).
Cables tested by this method are fairly safe to use at home.
Example: LAN Cable Tester.
The 3rd option involved very expensive hardware made by Fluke Co. However it is the way the pro goes.
This is an Entry Level Pro Tester ($600).
Link to: Fluke 620 LAN Tester.
---

Copyright © 2001-2007 EZLAN.NET. All Rights Reserved.
Home